This memorial website was created in the memory of our son, Nathanial "Nate" Pannell who was born in Columbus, Ohio on September 03, 1992 and passed away in Toledo, OH on August 13, 2006 at the age of 13 from a previously undiagnosed AVM (Arteriovenous Malformation).
He will be in our hearts forever.
This photo was taken when we took Nate's dad back to Camp Atterbury. It is the absolute last photo taken of our family together. We knew it existed, but couldn't find it, until I cleaned out some email folders and it appeared. We're so thankful to have it.
These are two new photos that were recently found of Nate (above). If you have any that you can share with us, we would love to see them. It would be like having new memories of him.

Please watch this video about Nate's life
"Forever" sung by Vertical Horizon



If I told you that my son Nate was perfect, it would be a lie. But, in all honesty, he was about the closest thing to perfection in my eyes.

When I was pregnant with Nate, we were told that he might have Down's Syndrome. We decided that he would be named "Nathanial", which means "Gift From God". And he was a gift from God, truly. Almost from the day he came home, he slept through the night and rarely cried. When his brother Nick was born 2 1/2 years later, they bonded immediately & Nate doted on 'his baby". As they grew, so did their relationship. Like most brothers, they fought constantly, but they also couldn't stand to be apart & slept together nearly every night. Nate & Jack (as his brother called him) were often found wrestling, which resulted in 6 broken bed frames!

Nate was as funny as he was tender-hearted. From a young age, he tried to find ways to make us laugh. As a toddler, he would pretend to walk into the wall and fall down. In second grade he wore his "Harry Potter" costume glasses for his school pictures, unbeknownst to his dad & me. As a young teenager, his quick wit kept us giggling. This sense of humor seemed to come so naturally to him. Nate had a way of making people feel at ease around him, so he had many friends.

Nathan excelled at sports & played football, basketball & baseball, for which he was his team's catcher. Baseball was his sport of choice & John & I loved watching him play. He was always willing to help his younger teammates & often, we had other parents tell us that their children looked up to him as a role model. Of course, this could be because Nathan was so much taller than everyone his age. By the time he was 13, he was 6 feet tall and wore a size 13 shoe! He was the spitting image of his dad & several people told John, "There is no denying that boy!" And why would he want to?

Nate's determination to be the best player he could be was evident the year he took up basketball. He decided to play during his seventh grade year even though he had never played before. He started the season on the bench & finished the season playing most of the game. When Nate put his mind to something, there was no stopping him.

I believe that because dad is in the Army & has spent time overseas, Nate knew the importance of family & spent most of his weekends at home instead of going out. His best friend was his dog, Lucky. A fond memory we have is of Lucky licking Nate's hair dry after every shower he took. They were inseperable.

Throughout his school years, John & I never had to tell Nate to do his homework. He was a procrastinator, but he always got his work done and had mostly straight A's to show for it. He attended Slocum Elementary in Defiance until fourth grade, when he transferred to Fairview, where I teach. In seventh grade, he was a member of the Quiz Team & was in Vanguard. He also was elected class vice-president & played the trombone in the school band. It was at the end of that school year, on May 23,2006 when Nate collapsed at school.

He was life-flighted to Toledo where I was told that he was comatose due to a stroke caused by an AVM (arteriovenous malformation), which is a tangled mass of arteries & veins. Because it was located deep in his brain, it was inoperable. Before that day, we had no idea he had an AVM- there were no warning signs besides a headache a few days before. John was in Iraq at the time & was flown home. Nate beat the odds & survived the stroke, a heart attack, & pneumonia, but remained in coma for three months. His AVM rebled & he died on August 13, 2006. Nate was buried in his baseball uniform & his team served as honor guard.

In the year since his death, our lives have been turned upside down & the only way that we cope is by doing everything we can to honor Nate's life & memory. We have made several donations in his name & have created a website in Nate's memory so that his story can be told & his life remembered. At Fairview, the Nate Pannell Scholarship has been established that will be awarded to a senior going into Law Enforcement, because Nate had wanted to be a cop. We will continue to strive to make our boy as proud of us as we are of him.

As you can see, I do think that my "Tate" is near perfect. Of course, I could be biased! We will love you forever, Mr. Man.

By Nate's Mom Denise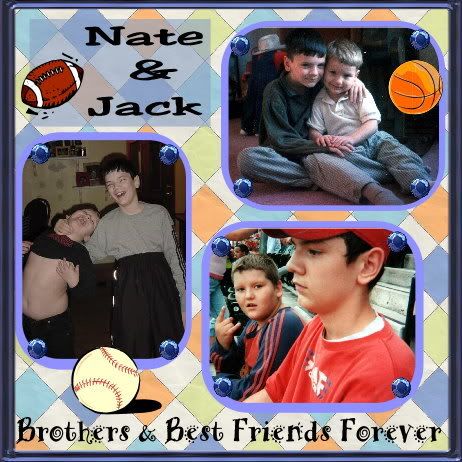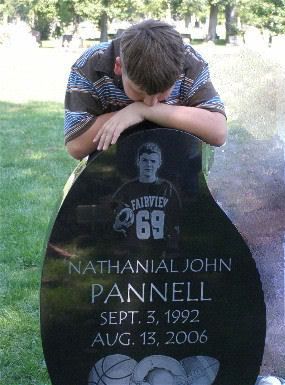 Jack misses you so much, Nate.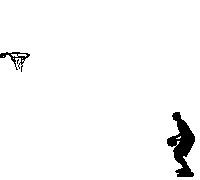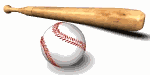 From Nate's My Life essay written in 5th grade, two years before he died:

"When I die, I want red roses at my funeral and want to be buried in a cemetery of my family's choice. 'We are the champions! will be playing during my funeral."



Taken about two months before Nate collapsed.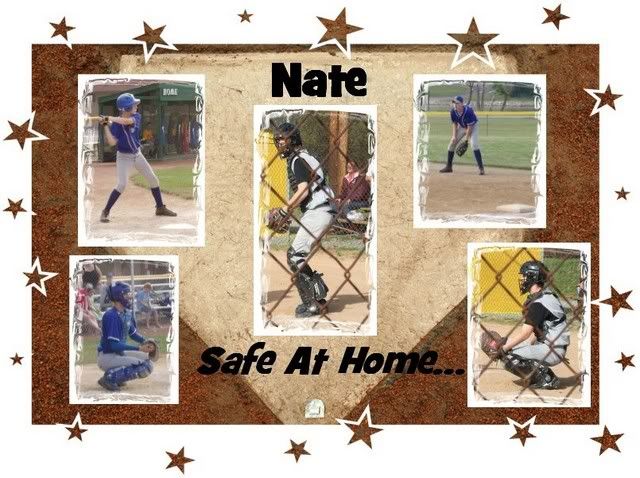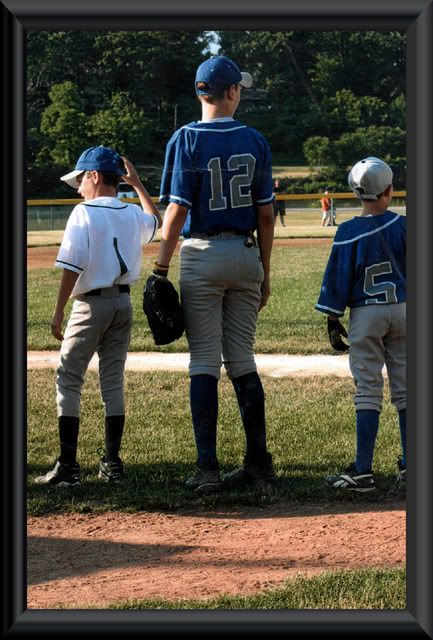 I love this picture... It shows just how tall Nate was.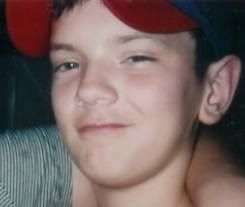 Baseball In Heaven

Hey mom do you know they have baseball in heaven
I pitched for the "Angels" on my first day
Moses was a bit annoyed, I got caught "stealing"
He said they don't do that here . . .

Hey mom did you know they ski in heaven
We ride atop the tallest clouds
Holding our wings in very close
We make a swooshing sound
You call it "wind" down there . . .

Hey mom do you know they have cable TV here
I get to watch all the neat stuff I could ever want
They even have the Si Fi channel
That me and dad always enjoyed so much . . .

There's pizza to eat all through the day
Man . . . the girls are all awesome and cute
I wear the coolest Air Jordan's
And I never miss a basket when I shoot
About the girls . . . the no kissing on the first date thing sorta bothers me . .

Hey mom do you know they have dogs in heaven
I got one today his name is Jake
He follows me everywhere I go
And likes to lick my face

So mom I guess what I am trying to say
Is that things really aren't so bad
I miss you and the family a lot at times
I miss the guy stuff I did with dad. . .

I do have some good news though . . .

At night when you fall asleep,
God said I can talk to you in your dreams
So those times I show up and we laugh and play
They are as real as they actually seem
Promise you'll talk back to me okay ( I can hear you when you pray) . . .

Hey mom do you know they have baseball in heaven
Oh that's right I said that before
I hit a homer just a while ago
Abraham and Gabriel came in for a score . . .

A camera man came close to get my picture
Just like they do for the pro's on TV
I had the biggest smile you've ever seen
I put my face close to the lens
It was huge and filled the screen
Do you know what I said?
Of course you do . . .
I looked in it and said . . .

" Hi mom!"

~ Russ Andersen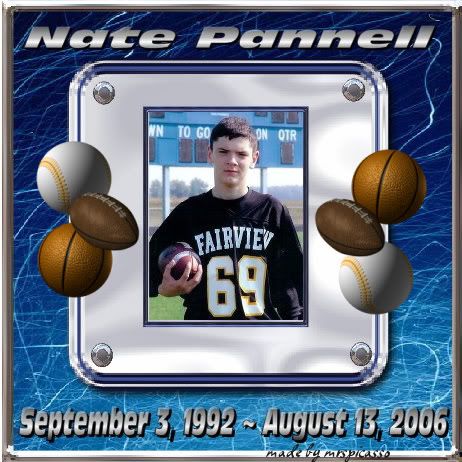 Obituary:
Nathanial Pannell

Nathanial Nate J. Pannell, 13, Defiance, died at 9:40 a.m. Sunday, Aug. 13, 2006, in Toledo Childrens Hospital.

He was born Sept. 3, 1992, in Columbus, the son of John and Denise (Shock) Pannell, who survive. He was a member of St. John Catholic Church and a student at Fairview Middle School, where he had finished the seventh grade. He was class vice president, and, at school, a member of vanguard honors, quiz team, band and the baseball, football and basketball teams.

Also surviving are a brother, Nicholas Jack, Defiance; his grandparents, Carl and Sheila Vincent of Greenville, Tenn., Lynn and Sharon Sheets of Defiance and Dennis and Sandra Shock, Pleasant Lake, Ind.; and his great-grandparents, John and Marjorie Leonard and Doris Shock, Defiance.

Preceding him in death was his grandfather, John Pannell.

Services will be at 11 a.m. Wednesday in St. John Catholic Church with Father Dennis Walsh officiating. Burial will be in Riverside Cemetery. Visitation is from 6-8 p.m. today and from 2-8 p.m. Tuesday at Lawson-Roessner Funeral Home.

Preferred memorials are to a charity of the donors choice.





Nathanial Pannell
August 17, 2006

Services for Nathanial Nate Pannell were held Wednesday in St. John Catholic Church with Father Dennis Walsh officiating. Burial was in Riverside Cemetery. Organist was Dave Moninger. The honor guard was the Fairview baseball team. Pallbearers were Josh Yoder, Kyle Grube, Kenny Daeger, Dan Salinas, Justin Sampson and Michael Shock. Lawson-Roessner Funeral Home handled the arrangements.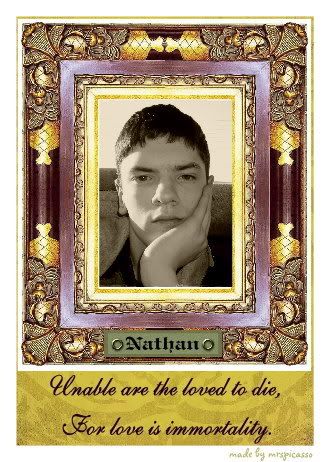 Crescent-News.com
Happy Birthday, Nate:
Family plants tree at home plate

September 3, 2006
By JACK PALMER


My name is Nathanial John Pannell, but my nickname is Magnet. I got that nickname because my hands are like magnets to footballs.

Thats how Nate Pannell began his autobiography, an assignment for his fifth grade English class at Fairview Elementary School during the 2003-04 school year.

Nate had a great sense of humor, said his mother, Denise Pannell. He loved to make people laugh.

Nate Pannell died three weeks ago as a result of bleeding from an arteriovenous malformation (AVM), a congenital disorder of blood vessels in the brain.

Today is his 14th birthday.

His parents, Sgt. John and Denise Pannell, and their younger son, Nick, 11, are celebrating Nates special day by planting a seedling tree in his memory at home plate in their back yard.

We value the time he was here, said his father, a U.S. Army reservist who has completed three tours of duty in Iraq and another in Afghanistan since 2001. He was so much more mature than others his age.

Nates memorial tree was sent to the family by members of armywives.com, a national website which supports spouses and families of U.S. Army members.

To know Nate was to love him, said Denise Pannell. He was a smart aleck at times, but he was so special. He was a miracle from the beginning.

He knew no fear, added his father. He started riding roller coasters at the age of four due to his height. He was 6-0 tall at age 13, with size 12 shoes.

During the 2005-06 school year, Nate served as vice president of his seventh grade class at Fairview Middle School. He was a member of the Vanguard class, quiz team, football, basketball and baseball teams, and played trombone in the band.

He had so many friends, said his mother, an art teacher at Fairview Elementary. We live in Defiance, so he played summer ball here and school ball at Fairview. He knew everybody.

Nate could adapt to any situation, stated John Pannell. He never found himself uncomfortable. He was so friendly, and he always considered how other people felt.

Nate Pannell was a devoted animal lover, especially of his loyal dog, Lucky.

He loved that dog, and that dog loved him, said Denise Pannell. One year he bought a leash and tag for Lucky with his Christmas money. Hes the one who trained Lucky, too. Lucky really misses him.

His mother smiled as she shared other Nate stories, such as the time he asked her for money, which he and his brother then used to buy her earrings and a bracelet for Mothers Day.

Then there was the time he broke his right arm in kindergarten and insisted on going to school the very next day, which happened to be the last day of school.

He drew a picture that day with his left hand instead of his right hand, but it still was beautiful, said Denise Pannell. He was very artistic, he loved to write and he loved to read. He read Harry Potter books in second grade.

His father grinned and shook his head as he recalled how Nate taught himself to play Texas Hold Em poker.

Sometimes we played that with friends here at the house, and he taught himself so he could play, too, said John Pannell. When he put his mind to something, he went all out.

With Nate, nothing surprised me.

On April 17 of this year, Denise, Nate and Nick took John to Camp Atterbury near Indianapolis, the Army base where he was to report for his third tour of Iraq. During the trip back to Defiance, Nate began his language arts assignment due the next day.

The assignment was to write a reflective story about your life as if you were 100 years old, said Denise Pannell. I think Nate wanted to make it as funny as he could, and yet reveal his sensitive side.

Nates essay began by noting how in 2010 he mistakenly found the cure for cancer while trying to discover a glue for envelopes that actually tastes good.

It also described how he won an Academy Award for playing Don Vito Corleone in a remake of The Godfather, how he was a World War III hero, and how he spent his life writing novels in the Ghost Rider series.

The mood of the piece shifted when Nate revealed that, despite all of those, his greatest accomplishment was having a son.

After having that wonderful seven-pound precious child placed in my arms, I couldnt hold back the tears, he wrote. William Kameron Pannell was my greatest achievement.

As I face my own mortality, he concluded, I can look back at my life and know that this is how I wanted it to be.

Nate Pannell never had any significant medical problems until five weeks later, when he collapsed at school.

A half world away, John Pannell had just arrived in Iraq when he received news that his son was being flown by medical helicopter to Toledo.

Nate was in a coma-like condition, and it was determined the cause was an AVM, a condition characterized by a complex, tangled web of abnormal arteries and veins connected by one or more abnormal communications.

Most people with AVMs never experience problems due to them. However, AVMs that hemorrhage can lead to serious neurological problems, and sometimes death.

He just had it in the wrong spot on his brain stem, said Denise Pannell. He was part of the 3 percent of the 3 percent.

Doctors did as much as they could, but when Nate came home July 24 he was still unable to talk.

He wasnt in a coma, but it was just one step above, called locked in. He could only open his right eye, said Denise Pannell.

At the hospital one of the doctors had told him what happened to him, and a steady stream of tears went down his face, she added. So we knew he was aware of things.

Nates condition took a turn for the worse on Aug. 12, and he was transported first to Defiance Regional Medical Center and then to Toledo Childrens Hospital. He died there the next day with his family by his side.

When I die, I want red roses at my funeral, Nate had written in that same fifth grade autobiography. We are the Champions! will be playing.

Nate also loved the Ohio State Buckeyes, so his parents had the funeral home play We are the Champions! and the OSU fight song during the visitation.

During the funeral service itself, his autobiography from fifth grade was read by his language arts teacher, Denae Roose. His 100-year-old Looks Back essay was read by Amy Daeger, a family friend and former neighbor.

Nate was buried in his Fairview baseball uniform, and four colors of balloons were released at the cemetery black and gold for Fairview, scarlet and gray for Ohio State.

His baseball team did a cheer for him, said his mother. Even before he died, they had put his number (19) on their hats for their games. They really missed him. He was their catcher.

Nates parents donated his corneas, heart valves and pericardium in the hope that they can be used by someone else.

If he can help another child play ball, or an adult enjoy his children somewhere, that would be wonderful, said Denise Pannell.

Planting the tree at home plate on his 14th birthday is not in memory of how he died, said John Pannell. Its in memory of how he lived.

Nate knew how to live, and that's something we all can learn from him.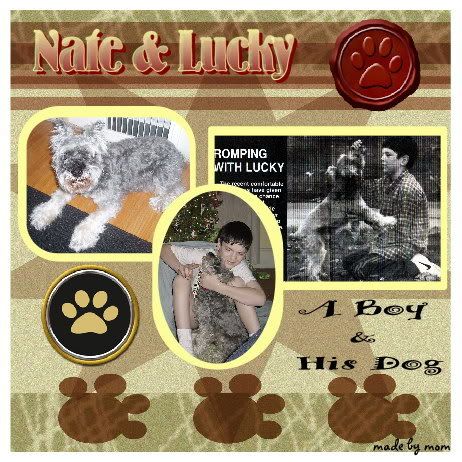 If you visit, please light a candle

for Nate.

You have no idea how much it

will mean to us!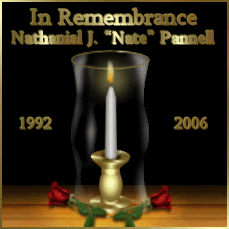 "There are no goodbyes for us. Wherever you are, you will always be in my heart. ~Ghandi"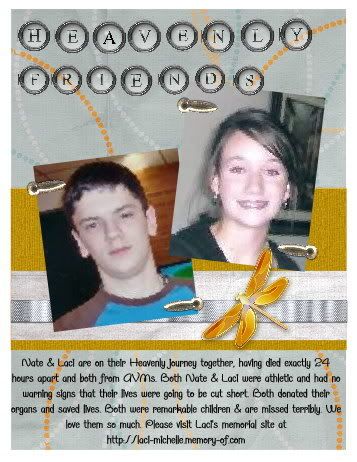 http://laci-michelle.memory-of.com/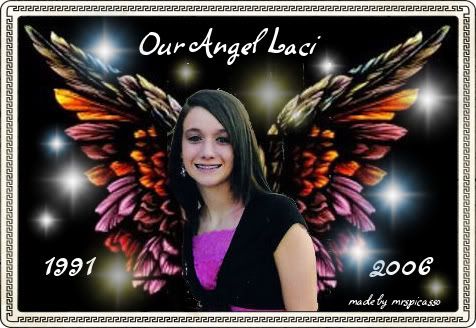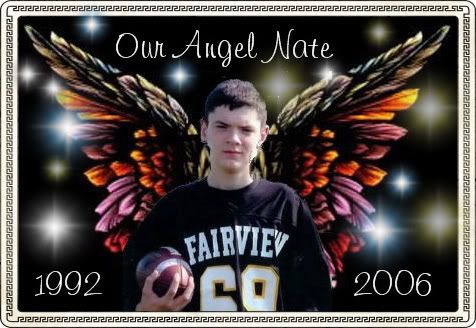 Many people have asked. "What is an AVM?" It is a rare congetital condition and we had no idea Nate had one.
Basically, he had a tangle (like a bunch of cooked spaghetti) of arteries and veins in the center of his brain. In AVMs, there are no capillaries to move the blood away from the veins and arteries, so the blood pools there. When the pressure gets too high, it can rupture and cause a stroke, as Nate's did.
They are kind of like aneurysms, except in those, there is a bulge in one blood vessel. His AVM was in a location that was inoperable- midbrain. It was a very rare circumstance- very rare.
He had no symptoms. He was very athletic- no coordination problems. No history of headaches, except right before. He was so very intelligent- had no learning disabilities or delays. We had no way of knowing about the AVM until he collapsed at school on May 23, 2006.
Nate told his brother Nick that he thought when you died, you became a cloud. We'll never look at the sky the same way again!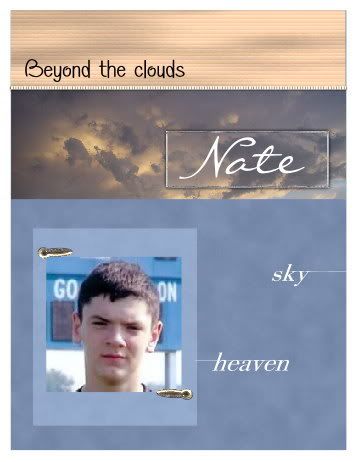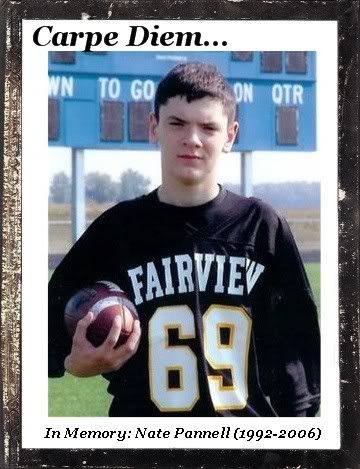 About Nathan
(he didn't switch to "Nate" until he transferred to Fairview in 4th grade):
~ When I was pregnant with Nate, the doctors told us that there was a chance he would be born with Down's Syndrome. We chose the name "Nathanial" because it means "Gift from God". And you were, Nate. You were!
~ His favorites:
Color- red & PINK!
Foods- chicken (especially those cheap BBQ chicken TV dinners!), Pepsi, Nestle Crunch bars, Oreo shakes & flurries, Aunt Sally's Mexican rice, Grandma & Grandpa Sheets' chocolate chip cookies, CHEESECAKE, pumpkin pie (he could eat a whole one himself!), mom's chicken fettucinne, chicken bacon ranch subs from Subway
TV shows- WWE RAW,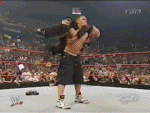 Family Guy,

South Park,

LOST, ESPN, Robot Chicken, Aqua Teen Hunger Force, Wonder Showzen, Simpsons,
Mad TV (he did a perfect imitation of Stuart)
Movies- Water Boy, Star Wars,

Harry Potter (when younger), James Bond, Team America- World Police, Napoleon Dynamite (I remember all the boys doing this move at the basketball games)

Sports Teams-
OSU football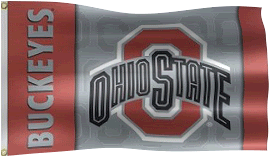 ,
Green Bay (his "best day ever" was when AJ Hawk was drafted to Green Bay last April),
Cardinals, Indians
Animals-
his faithful Schnauzer Lucky
("Moo-Moo"),

monkeys

Songs- Grillz, Bohemian Rhapsody or any Queen song, Dani California
Cars- Hummer, Element
Sayings- "Der da der!!", "I get jokes!"
Video game- Grand Theft Auto-Vice city, any sports games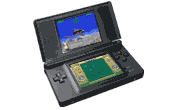 Gal- Jessy. He talked about her all the time.
~ What he wanted for the future-
Go to Ohio State and become a cop

, marry and have a son named William "Billy" Kameron Pannell
Thank you to Nate's little brother Nick (or as Nate called him, Jack) for helping with the list.
We actually miss seeing our boys fight!
Please add more to this list!!!
He lives on through us.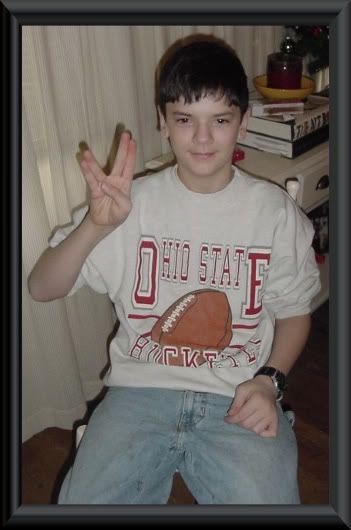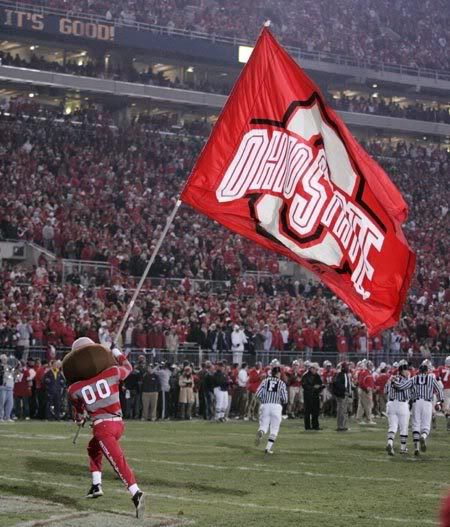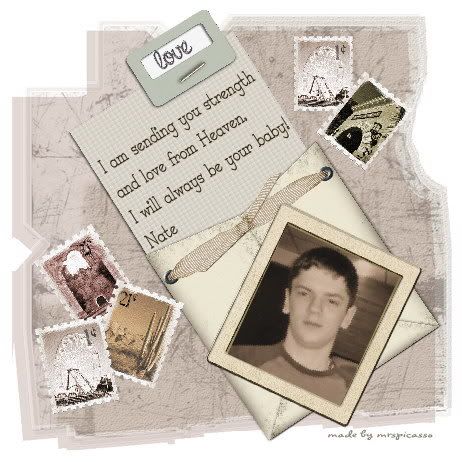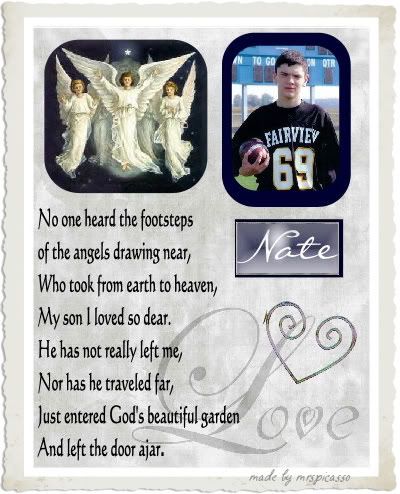 Some Nate Humor
(you know he wants you to smile when you think of him!)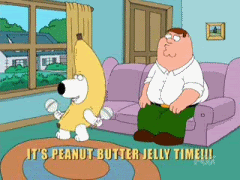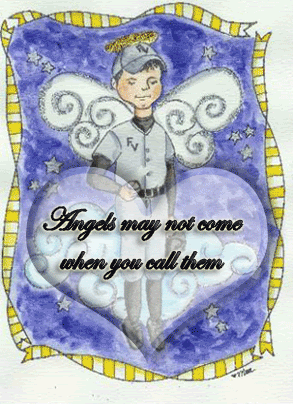 Thank you, Sam (Pyro on AWW) for making this!
Signs from Nate


Who can say for certain
Maybe you're still here
I feel you all around me...

~ On his birthday last year, a heart made of sunlight appeared on the steps right where I sit and talk to him. It has never returned. Remember that I held him & sang "You Are My Sunshine" during his last moments, just like when he was a little boy.
~ This picture of Nate & Jess falls over all the time, even when no one is near it. No other pictures- just this one.
~ The doors in our house open on their own. One morning we found that the front door was open all night!
~ I have had two very vivid dreams about Nate. In both, he has been on my left side and has told me that he loves me, is ok, and that I don't need to worry about him. I really don't think they were dreams!
~ Dimes. We find dimes everywhere, even in unexpected places. Not pennies or nickels or quarters. Dimes.

~ Music. We hear the music that reminds us of him every time we are in the car, no matter what time of day. Mom hears "Far Away", Dad hears, "Chasing Cars", and Nick hears "Crazy Train". Once, we pulled into the church for a memorial service in honor of Nate & others lost during the year and "We Are The Champions" came on the radio- the song we played at his wake.
~ Orbs. Never had them in pictures before, but now we do! They appear around Nick, dad & mom.
~Lights. I believe Nate has turned the lights off on me at least twice. Once, I was in the closet under the stairs and I started crying. Not 5 seconds later, te light turned off. This is an old light in the wall that has to be TURNED on, not flipped. The bulb was not burned out.
Nick and I were standing in our front room when the lamp we were by turned off and on several times. When I reached up to see if the bulb was loose, it turned back on and stayed on. It was not loose. It would be just like Nate to try and scare his little brother!
~ Bookworm. Nate & mom loved to play the game Bookworm on the computer. Now, when mom plays it, Nate's name drops down all the time. The first time it happened, I took a photo: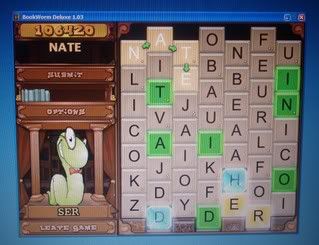 Every now and then soft as breath upon my skin
I feel you come back again
And its like you havent been gone a moment from my side
Like the tears were never cried
Like the hands of time are holding you and me
And with all my heart Im sure we're closer than we ever were
I dont have to hear or see, I've got all the proof I need
There are more than angels watching over me
I believe, I believe

I believe, Nate!
(If you believe you have had signs from Nate, would you please share them with us?)

Here is a great story about Nate from when he was in second grade. One day, Nate's teacher came up to me and said, "I think it is so cool that you let Nathan get Harry Potter brand glasses." Ok one problem- Nathan didn't wear glasses! Turns out, he was sneaking his Harry Potter costume glasses to school and wearing them all day. He even wore them in his school pictures that year: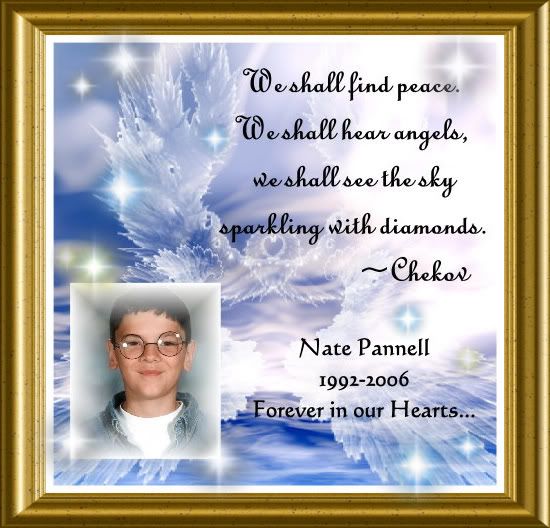 Now isn't that the best story ever? Nathan always knew how to make us laugh.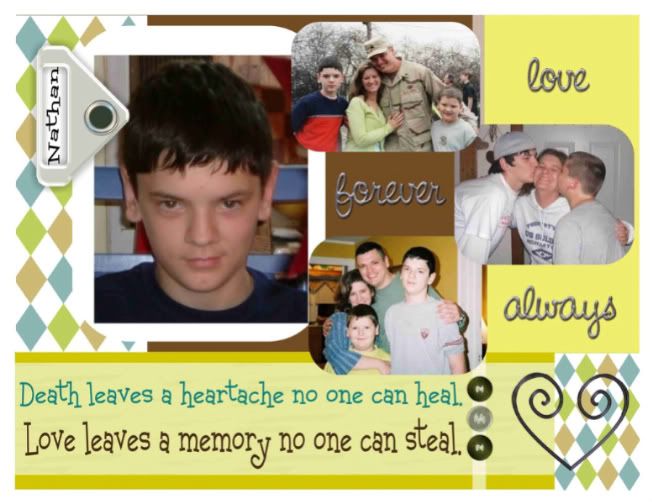 Please click on the box below to vote for Nate's website so it can become a topsite. Thank you!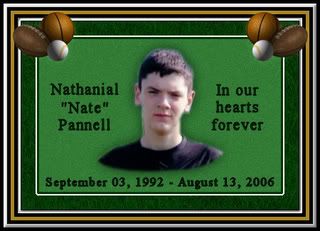 This banner was made by one of Nate's AWW aunties, Bekbork. Thank you so much!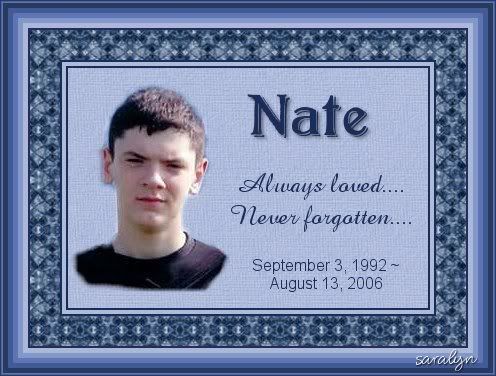 Thank you to Robbie's mom Saralyn from Teen Angels Forever In the Light for making this banner. Please visit Robbie's site:
http://www.robbiesmith.com/

Thank you Margaret!
Please visit her mom's site:
http://nellie-buonpane.memory-of.com/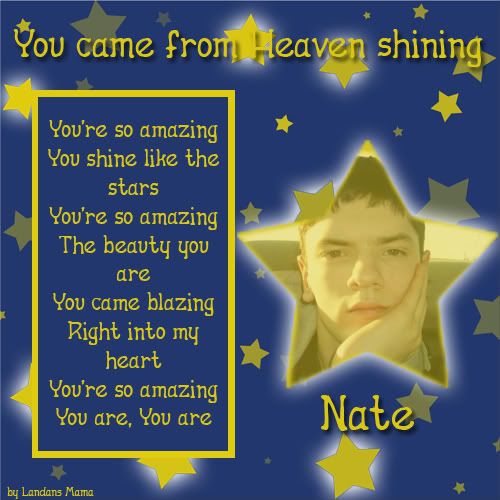 Thank you to Lacey for making this graphic.
Please visit her son Landan's site!

http://landan-harris.memory-of.com/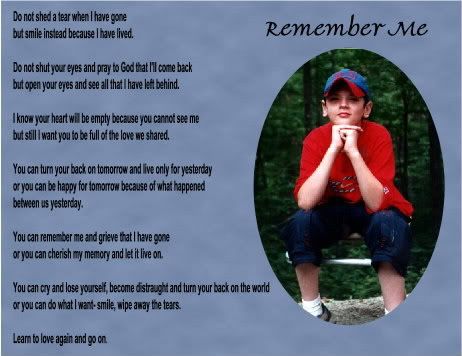 Thank you for remembering Nate.

It means the world to us.